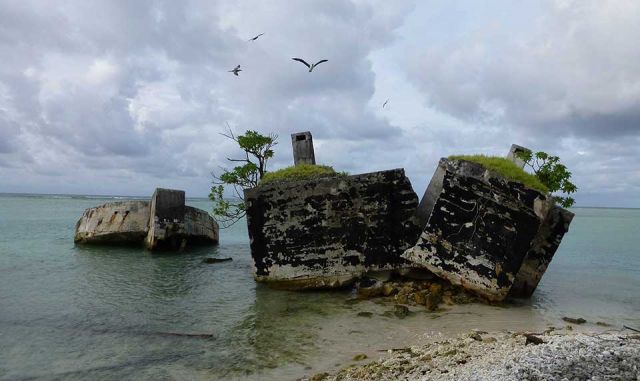 A fascinating history - Palmyra Atoll is among the most isolated places in the world. Situated nearly 1,000 miles south of the Hawaiian Islands, it is truly a marine wilderness in the Pacific. This tiny central Pacific atoll is a complex of small islands and islets encircling three lagoons and surrounded by more than 16,000 acres of coral reefs. Although there is no evidence that the islands ever supported any permanent indigenous settlements, Palmyra's terrestrial and lagoonal habitats have been dramatically modified by people, especially during the Second World War, when it was occupied by US troops. After more than a century of private ownership, in 2000 and 2001 the atoll and 12 miles of its surrounding waters were permanently protected by The Nature Conservancy (TNC) and US Fish and Wildlife Service (FWS), with the establishment of the Palmyra Atoll National Wildlife Refuge. In 2009, the Refuge was included as a unit of the Pacific Remote Islands Marine National Monument, and waters out 50 miles were also protected. This combination of location, isolation, rich biological systems, lack of persistent human pressures, and active protection and management make Palmyra Atoll an exceptional and unique location for a wide range of research pertaining to biodiversity, conservation, natural history, ecosystem restoration and management, marine ecosystem dynamics, biogeochemistry, climate dynamics, and atmospheric processes.
A very special place - Because Palmyra is one of the only protected atolls in 450,000 square miles of ocean for nesting seabirds, migratory fishes, and threatened turtles, the ecological footprint of Palmyra is large and reaches far beyond the surrounding reef and borders of this U.S. territory. Palmyra's submerged coral reefs, which jut seaward beyond the islets, support three times the number of coral species found in the Caribbean and Hawai'i and five times as many coral species as the Florida Keys. Described as one of the most intact, diverse and spectacular reef ecosystems in the world, these coral reefs are sanctuary to numerous species of fish, endangered green and hawksbill turtles, manta rays, giant clams, and black-lipped pearl oysters. Palmyra, due to both its remote location and its protected status, is also home to some of the largest remaining populations of marine apex predators. Similarly, a large population of bonefish, highly prized by anglers and decimated in other areas of the Pacific, thrives in Palmyra's shallow sand flats. The atoll also has one of the best remaining examples of a tropical coastal strand forest (Pisonia) found in the Pacific.
To learn more about the scientific history of Palmyra Atoll, visit The Nature Conservancy page on Palmyra Atoll.
To learn more about the National Wildlife Refuge visit USFW Palmyra Refuge page
Visiting the atoll is not easy but possible with planning. There are four ways the public may gain access to the refuge:
Working for, contracting with, or volunteering for The Nature Conservancy or Fish and Wildlife Service
Conducting scientific research via Fish and Wildlife Service Special Use permits
Invitation through The Nature Conservancy sponsored donor trip
Visitation by private recreational sailboat or motorboat
To learn more about visiting the atoll click Plan Your Visit